Top Tips To Establish Your Business As A Brand On Social Media
In the modern-day digital marketing world, there are a lot of businesses that rely heavily on social media. It makes sense to use social media as a marketing tool if you are a business as it is one of the most cost-effective ways to spread your marketing message and reach a large audience. If done correctly, you can also gain real-time feedback from your customers. But, Social Media Branding is not an easy task.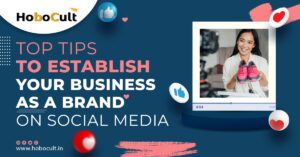 If you do not basics of social media, you can start the journey, but will that be enough? Businesses that need to flourish to the top of industry must not stop at just start. To take your business higher and establish social media branding, HoboCult, the Best Social Media Management Agency in Delhi, is here to tell you top tips to establish your business as the brand on social media:
Don't jump on all social media platforms:
Similar to like not every human being is created equally, not every social media is equal. There are genres for which each social media works best. Most of the platforms allow you to post text, pics, and videos but the demographic audience of every platform is not the same. For example, Twitter is just Facebook but with a much older audience. To make your social media branding easy, first, make sure which platforms will be beneficial for you. Shortlist 3-4 platforms and put all efforts there.
Establish your brand's voice:
Once you have shortlisted platforms, it is time to choose the voice of your brand. Will you post serious posts, curious posts, or entertaining ones? The choice is yours after you select platforms. According to your voice, it would attract an audience. Once the audience is interested in your voice and how you convey your product or service, they will convert into potential customers and loyal ones.
Post regularly:
Most businesses make their social media profiles and post once in a blue moon. This type of silly move will hamper your progress in social media branding. To ease your path, make sure you post regularly. Research the best time to post. Look out for the time when your target audience is online, so they see your post on top. After that, choose the time gap between each post. The best move will be to post daily at the same time.
Do not post content half-heartedly:
Social media branding is a long journey and requires dedication. You can not post half-heartedly and expect high-end results. Do not take it just as a formality to post and post anything you find online. Try to make a social media calendar with content and then make creative eye-catching graphics of that content. By doing so, you would bring discipline to your social media branding and people will be regularly updated with your brand.
Use hashtags:
The hashtag is your way to a bigger audience. Most platforms show posts that rank high on hashtags. People follow their favorite hashtags and receive posts accordingly. If your social media content is ranked higher on that hashtag, it would be visible to more audiences. Another thing about hashtags is that they help people find their thing. For example, if someone is finding 'artistic frames', and your post has the hashtag, it would be shown to the audience and they will be most likely to convert as your customer.
We hope you enjoyed our article on how to establish your business as a brand on social media. With this knowledge, we know that you can use your brand to support your business on social media to help it grow. So, what are you waiting for? Use these tips to help you establish your brand on social media today! If you face any difficulties in following these steps, contact HoboCult, the Best Social Media Management Agency in Delhi, for professional assistance.