Top Tips For Successfully Managing Online Customer Reviews
If you have listed your business online, there are chances that people will review it now and then. These reviews vary widely. Some reviews are the ones that will motivate you to do more business. While the others will seriously demotivate you and force you to become angry. Successful management of these Online Customer Reviews is the key to painting a positive image of your brand. If you are not aware of the damage reviews can do, you would be falling into the pit of failure.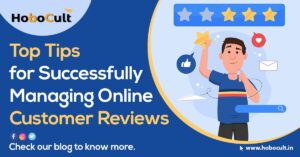 HoboCult, the Best Digital Marketing Agency in Delhi, is here to give you top tips for successfully managing online customer reviews. With our great tips, you would handle online reviews along with creating a positive image:
Let an expert handle your reviews:
If you have your team, there must be someone who should handle the reviews. There are a few things you should keep in mind while choosing someone who should handle them. The person handling your reviews should possess a strong customer service attitude, great communication skills, knowledge and authority to solve complaints, and good judgment. Judgment will help the person transfer the right query to senior staff.
Must respond to positive reviews:
As a business, it's important to always thank customers for their compliments. Some say that a private message is enough, but some believe that responding publicly is better as long as you're on sites such as Facebook and Twitter because you might not have a choice in the matter. However, no matter how you want to proceed, there's one certain thing; you should make sure to take this opportunity to remind your social media followers and/or regular customers just how much your product or service has impacted them.
Be careful with negative reviews:
Before handling negative reviews, you must confirm what type of negative review is it. In the online world, there can be fake reviews, lack of expert reviews, unfair reviews, and genuine complaint reviews. All these types of reviews must be handled differently. Most sites do not allow customers to post a review until that website has confirmed it. Amazon is one such website. Such a trick is necessary to eliminate fake reviews. Some people who have lack expertise or are biased tend to write negative reviews. Place such reviews among other positive reviews or try to explain to them what they got wrong. Genuine complaint negative reviews are the ones you should handle seriously. When their problem is solved, such people will post positive reviews too.
Stay on track with the website's rules:
Reviews don't have one single source. On every website that you have made your online profile, there will be reviews. It becomes important that you stick to the website's rules while replying to reviews. Most websites prohibit using abusive words, profanity, or breaches of privacy. Read the website's rules carefully when you establish your online presence over there.
Put a 'post a review' button:
When a person sees a 'post a review' button on blogs, products, or services, they are likely to post it soon. This is a psychological way of getting a customer to post a review without pressurizing them. If you have a review section on other websites, make sure to link those websites on the review button.
We hope that this blog by HoboCult, the Best Digital Marketing Agency in Delhi, has helped you to gain some useful knowledge about how to manage online customer reviews. If you want to know more about how you can get the best out of your customer reviews, feel free to contact us at any time. We also provide professional help in managing your digital marketing, including customer reviews.