How To Use SEO To Grow Your Digital Marketing Results
SEO is a complex and multifaceted structure. You might have heard of it multiple times but even if you know of it, it still is an untamed beast. You have to be thorough about SEO services to tame them and use them to your advantage. Digital Marketing is growing, and so can you with it. The world is turning digital rapidly and the need to understand how to use marketing and enhance the power of your business becomes vital for survival in this era of unparalleled competition. Do not worry, Hobocult, one of the best digital marketing agency in Delhi, is at your service.
SEO marketing is a powerful tool to enhance digital growth. To achieve the best of results, your SEO must be aligned with your overall marketing strategy. When both, SEO and marketing strategies, work together they will produce miraculous results. SEO maintains the balance to your marketing strategies by reaching your audiences through search engines and answering their questions. It is a valuable tool for brand awareness, building long-lasting relationships in your field, and above all, it is vital for today's digital world.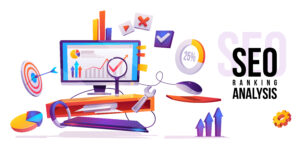 The Critical Elements Of SEO
SEO analysis can be tough, but it can be made easy if we understand its critical elements:
Keywords – Though they are independently not the only thing that drives SEO forward, still their importance can't be neglected. It should be selected after thorough research and justified decisions. Keywords can also be used to optimize titles, URLs, etc.
Content – There's no SEO without content. Content is the viral and vital part of SEO that drives the results and attracts the audience. People look for educational content which also must feel interesting, relevant, and engaging to the audience. Some content form includes web page content, blogs, videos, podcasts, etc.
Off-page SEO – One of the main techniques used for off-page SEO is a backlink to your website from other external site engines. This makes your site appeal more valuable and of high quality.
SEM – Also known as Search Engine Marketing, it is referred to techniques like ads, Google Adwords, social media ads, etc. It does help people reach a new and highly targeted audience.
Why Use SEO?
The following data will answer your question about why to use SEO:
89% of marketers claim SEO to be successful and worthy of time and value.

70% of clicks go to organic results.

93% of all experiences begin with a search engine that might lead to your website.

SEO has a 14.6% lead in comparison to just 1.7% outbound leads.
How To Use SEO To Grow Your Digital Marketing Results?
As digital marketing specialists, professionals at Hobocult, one of the best Digital Marketing Companies in Delhi, have curated tips and tricks on how to properly use SEO to grow your digital marketing results. The first thing we would like to give is to look at SEO as ever-evolving technology because it's main two components – users and search engines. They both develop over time and change in the blink of an eye. Also, you need to keenly monitor and analyze SEO and not just use it and forget it.
Create Ads Matching The Content – Content and context are two superpowers that run parallel. While using SEO for full potential, you must create ads that match the content and context of your niche. It will attract the visitor and they will be interested in taking action implied in the ad. You should also be careful about the color schemes of the ad chosen to attract the visitor and not make them feel uncomfortable even looking at the ad.
Use SEO Content – As described much time, content rules the SEO. It can also be used to uplift keywords. Using SEO content can surely uplift low-ranking keywords, thus giving a boost to your ad ranks and further enhancing leads, conversions, and engagement due to targeted content. You must also carefully research the content that helps you rise in your niche and not just get on with any content. If you have a nursery, try researching what people are most into and then write SEO content.
Quality linking and social media – Nobody can ignore how powerful social media has become in the past decade and that power can be utilized in various ways. One of those ways is to enhance SEO and drive results. You must pay close attention to building quality links to get a good amount of traffic. You must also have an up-to-date social media platform. The social presence of your business surely increases traffic output on your website, blog, and any other place you would want your audience to have a look.
Clear Website – A clear website sends a clear message to the audience. User-friendliness, clear navigation process, optimized SEO keywords, tags (Meta and title) are some main checkpoints that must be given equal importance while creating a website. We suggest you build every page depending on the keyword theme. It will help boost the SEO process and affect your digital marketing results positively. One more additional fact to be taken good care of is to make your website mobile-friendly. In today's era, people search for more things on their handy smartphones than laptops or PCs. You can check your website URL in Google's mobile-friendly test for the same.
Use paid social ads to analyze the pattern – Paid social ads to include twitter ads, FB ads, Instagram ads, etc. The result of paid social ads will reflect justly on your work. Whether you want to track demographic location or want to test headlines, paid ads results will give your quality result. The result can be used for further analysis and you can use the analysis to perform better.
Remarketing – Remarketing refers to reaching that audience who had already been through your website in the past. The two most powerful remarketing platforms are google and FB. Adding analyzed SEO to remarketing will help push the audience onto buying actions.

To drive quality traffic to your site, it is important to have a well-defined and targeted SEO strategy. The pros for the same have been told above. SEO is a crucial factor in attracting traffic to your site. Although SEO seems to be independent enough for some organizations or businesses, it is advisable to attach it with other offline and online channels. If you still have confusion related to SEO and how to use it, please feel free to contact us for solutions to your problems. Hobocult's professionals will help you reach the best possible solution for all your digital marketing and SEO needs. Feel free to contact us.