Boost your SEO knowledge with these Digital Marketing Fundamentals
The digital marketing budget has seen ups and downs in the previous year. While many of the offline businesses went online and established their presence again, many online businesses had to face downward revenue. This has impacted the digital marketing professionals and hampered their growth too. Many businesses are revisiting their budget and assigning the lower amount to Digital Marketing Fundamentals in the hope to get more from less.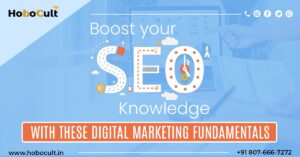 But this is a mistake. Businesses who do this will have to face serious consequences as the world is getting more digital day by day. Hobocult, the best digital marketing agency in Delhi, is here to boost your SEO knowledge with these Digital Marketing Fundamentals:
Get a grip on your digital presence:
It is no doubt that you must have created numerous content on your digital presence. And you would also wish to get some returns of this content. But, to know better you must be fully aware of the placement of the ads too. Your ads will be ineffective if you won't monitor them regularly. You must monitor social content, reviews, and links of your paid ads as well as of digital presence to make sure you are in control of your content, not the platform.
Understand the search engines:
Algorithms are an ever-changing phenomenon. If you do not understand search engines and their algorithms from time to time, there are high chances that you will lag behind. With a good understanding of search engines, you will optimize content, will understand how and what people are searching for, and will help your team in a big way. Being a digital marketer, you must have an everlasting curiosity for crawling and indexing and how things are changing behind the curtains.
Analyze your competitors:
When businesses were offline, there were fewer competitors in the area. But, the online world is not like that. There are hundreds of competitors of every business. On online platforms, you are fighting for airtime and attention. While everyone is using social media for hours daily, their attention span has declined. With this small attention time, you need to be visible to them while taking care of your competitors too. Competition is tough but analyzing your competitors is one way to overcome this battle.
Choose social media wisely:
With unlimited social media platforms, there are chances that you would choose the wrong platform. Not every platform is for every business, and not every platform demands the same type of content. This is why you should choose social media platforms wisely. Business features also vary by platform, so you must carefully analyze the platform and its features before turning towards it with great hopes.
Online paid advertisement:
We are sure you must have done paid ad campaigns. Online paid advertisements are one of the best ways to rank higher quickly. Organic search results have their power but sometimes you need the boost of paid ad campaigns. When we talk about expanding the knowledge about an online paid advertisement, we mean that you focus on a few things. Things such as paid media pricing models like CPM/CPC, advertising platforms, different types of ads, smart bidding need huge understanding before making the best use of them.
We hope you enjoyed our article on how to boost your knowledge of SEO fundamentals. With this knowledge, we know that you can start to become a digital marketing pro and help take your business to the next level. So, what are you waiting for? Learn more about SEO and what it can do for your business by contacting Hobocult, the Best Digital Marketing Agency in Delhi.