4 Best Types Of Content Marketing That Can Assure Your Win In Industry
Content Marketing is the way through which businesses and organizations share their content on various platforms. Content marketing revolves around sharing content such as blogs, videos, and even social media posts. The primary purpose of content marketing is to create interest in the service or product of the business. However, it can also be used to promote a brand. It is used to target an audience online via creating, publishing, and distributing content throughout the web.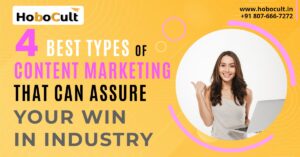 Content marketing is not everyone's cup of tea. It involves tremendous research and implementation. Hobocult, the Best Content Marketing Agency in Delhi, is here to tell you the best content marketing types to secure your win in the industry:
Blog Posts
We all have heard of blog posts. It is a most heard type of Content Marketing. It is used by businesses to create awareness, increase engagement, show their industry expertise, and much more. With blog posts, you can even drive more traffic to your website, and get help with link building. You must strive to write blog posts that are up to date, detailed, and show elaborate information on the topic. Garnish your blog with facts and figures to show authority and credibility.
Infographics
This is an awesome combination of text content and graphic content. Not everything can be delivered through blog posts. Infographics are used to deliver content with bullets and numbers. It is an effective alternative to long-form content which only consists of text content.
Videos
We all love watching videos. Videos have emerged as the most-watched form of content since the pandemic started. Short videos on interesting topics are loved most by online users. Although good videos are hard to produce their results are unparalleled. Many videos come in trend and this trend takes businesses to a whole new level. You should aim for producing one good video per week if you want to make the best out of content marketing.
E-Books
If you are targeting more than a blog post, the best thing is an e-book. An E-book is an elongated form of a blog post. It can deliver your business's message in a detailed manner. Many businesses distribute e-books at their events or online to give an insight into the company.
With these 4 best marketing types in your mind, you can get an edge over your competitors. Be regular in posting content and you would see marvel in no time. Hobocult, the Best Content Management Agency in Delhi, can help you in your content marketing if you are struggling with it.