5 Simple Ways To Get More Leads For Business
Businesses that have a strong online presence can always get more leads compared to other businesses. This is because people are always interested in buying from a business that dominates the social media platforms. But how can you get more leads? Well, you need to come up with a good approach to the art of getting Leads for Business. Finding more leads is one of the top priorities for businesses today. One of the main reasons why businesses lose out on leads is because they fail to understand their customers' needs and do not know how to handle their leads.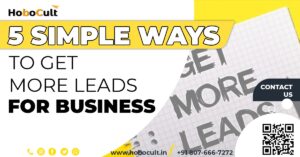 This blog, by Hobocult, the Best Digital Marketing Agency in Delhi, aims to help businesses by providing some useful tips and tricks on how to get more leads:
Approach Directly:
If your business sells a high-value product it's best if you can engage in a dialogue with potential customers directly. That way you could be sure that any decisions that are being made and any potential changes to your business are based on what the customer has said they want, which means less time designing products or services for them and more time fine-tuning the ones you've already got. If instead, you run a company that operates by selling cheap low-value products or services by bulk on a large scale then it is not always best to rule this option out as an open door will tend to give them too much access to your sales tactics as they're able to just bend deals towards their favor instead of getting what they would want.
Nothing Happens Without Advertising:
When you run social media campaigns and advertise on websites, people who come across your content will have many other options to click. So, the trick is to make sure that you're spending your advertisements with targeting. In other words, it helps if you tell AdWords which of your advertisements are targeting people who are likely to be interested in purchasing products related to yours. You can customize all of your search engine marketing campaigns by using phrases related specifically to what you want to get across and also by making use of a geo-filter that will target users in specific areas.
Try Guest Posting:
By guest blogging on relevant industry websites, you can find new leads directly related to your business' industry and area of service/focus. For example, if you're a marketing company that also hosts special events then you could blog on a site that provides information about events that take place in your area. You know there's some overlap – customers looking for what they can do along with the kind of venue they need to hold the event themselves and companies like yours offering the means and capability to provide such services.
Do Not Forget Forum Questions:
You can try to explain a difficult topic in an easy-to-understand way and then share it on a community forum. If this is done strategically and provides value to others, you will be able to show your expertise. Because people like helping other people, if your content is useful for others then you might also gain some leads which are needed when starting up your business.
Provide Freebies Or Free Software:
Generating Business-to-Business Leads may seem tricky, but here's a great tip. Think about the services you have to offer. Is there a way you could offer a free tool or resource that might solve your customers' current issues without necessarily eliminating the usefulness of your products and services?
We hope you enjoyed our article about how to get more leads for businesses. With this knowledge, we know that you can get more leads and get more business from your website. So, what are you waiting for? Start implementing these techniques today to get more leads for your business. If you want professionals to handle your lead generation, contact us. We, Hobocult, the Best Digital Marketing Agency in Delhi, will help you generate more quality leads in your budget.