Generate More Leads in 2022 With These Professional Tips
Are you looking for ways to Generate More Leads for your business in 2022? If so, you've come to the right place. Generating leads for your business has never been a child's play. With more and more businesses going online, prospects are bombarded with more information than they can process. Your lead generation machine should be able to cut through this clutter and bring prospects to you. However, if you don't have the right tools and strategies, it might be difficult to generate more leads in 2022.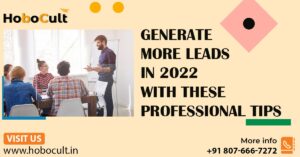 Here are some professional tips by HoboCult, the Best Digital Marketing Agency in Delhi, that will help you get more business in 2022:
Get knowledge about your audience:
The first step of generating leads is to know your audience. It's important to be aware of their culture and what they're interested in so as not to appear pushy or overbearing. You don't want to end up scaring away potential clients. Instead, be able to relate with them so that you can understand them on a deeper level than just knowing about the demographics on an online profile for example. Also, it's important for your content writers for b2b business, therefore, to have some understanding of how to engage with your social media audience as well or else you risk losing potential clients who could've been converted into paying customers.
Choose the best fit promotional methods:
Choosing the right marketing strategies for your business is essential. It's not entirely different from when you're on a blind date and you've got to keep the conversation interesting by making solid, substantial contributions so as to not bore your date. When coming up with new promotional methods, try picking ones that are likely to be engaging and captivating because it will help keep people coming back for more which would otherwise be hard to achieve if your business came across as dull or unappealing. Some ideas include an informational website, a blog, social media, speaking engagements, industry events, current customer referrals, pay per click (PPC) advertising and traditional advertising but again we always want every entrepreneur to test their own innovative marketing methods so they can figure out what best works for them!
Formulate a sales funnel:
You might not realize it, but there are a lot of people out there who are really excited to purchase your product or service! The first rule of thumb is that you should get your potential customers in front of you. This can be achieved in many ways such as social media marketing or direct advertising. Let's go big and start by looking at the latter…direct advertising can get much more expensive than we'd like to have it, so let's break this down one step at a time and take a look at some other great sources for finding our target audience and getting them hooked (you'll notice we've also included video demos where applicable).
Power your business with the power of emails:
Now that you are in contact with your prospects, it's time to really get to know them and nurture those relationships as they move through the lead stage towards a sale. One of the best ways to create consistent communication with your leads is through an email newsletter. Relationship management software is crucial if you have a lot of leads because it helps by making sure your emails are going out and getting read. Follow regulations
Use social media wisely:
Social media has created an environment where small businesses are able to connect and engage with prospective customers. Here are some examples: Facebook, Twitter, and LinkedIn have given people an open door to connect with other like-minded people. YouTube is a neat way to create a broadcast channel where anyone can view your content. And Pinterest is full of products you can pin! Creating positive social media experiences for your end-users is absolutely essential when trying to acquire them as new leads or customers as well. Prospective customers who develop more positive associations with your product or service over time will be more trusting of the brand in general, leading them to become eventually become converted into loyal customers themselves.
You've learned a lot of different tactics in this blog post and on our website. Now the only thing left is to put the tips into action. We'd love to hear how this has helped your business. Please reach out to HoboCult, the Best Digital Marketing Agency in Delhi, to gain professional help in lead generation.