Top 3 Video Marketing Myths Debunked!
Video Marketing and content marketing go hand in hand. Most businesses understand that video is an important part of a content marketing strategy but they don't understand the nuances of video and the right way to integrate it into a content strategy. How do you go about creating great content? How do you determine what type of video to create? How do you promote it? What's the right strategy? All these questions have given rise to several myths around video marketing.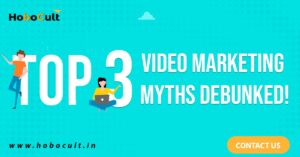 This blog by HoboCult, the Best Video Marketing Agency in Delhi, looks at 5 video marketing myths and how they limit the potential of video marketing:
Video burns a hole in the pocket:
Video is cheaper than you think. Today's customers are actually more attracted to genuine and authentic content than anything out of this world with new technology and post-production tricks. With micro-influencer marketing, companies have been making excellent use of their own users' videos and blog posts as well to spread the word about their products and services. As an entrepreneur, if you have something valuable to say, then less is more. Don't be intimidated by a low production budget because just like with traditional print product launches, you can produce great quality content with no fancy camera or editing equipment at all! It's vital as a business owner or entrepreneur that the value through our content resonates when it comes to getting your message across to your target audience (and hopefully we've achieved that for you in these examples!).
Video making is complicated and difficult:
What many small business owners typically mean by this is "I don't know where to begin." When business owners think of the video, they imagine storyboards, brainstorming, the team doing roundabouts, equipment, and everything else. a time-consuming process of coming up with scripts and storyboards, procuring actors and equipment. To their surprise, modern video marketing differs from Hollywood in that it doesn't need all these resources. Today, most smartphones even rival professional cameras and offer simple video cameras you can use for your own projects. We know that you don't have much time but still want to look after your brand, so we propose an easy solution for creating quality content without the hassle of searching from team member to team member asking everyone to help out or read a script before they start recording.
Video is not a marketing strategy for my industry:
It's undeniable that video content is the lifeblood of today's digital economy. But it wasn't always this way which makes this stat even more remarkable. The video was introduced in 2005 and at first, businesses didn't get the hint, but they saw the light eventually! Most importantly, businesses weren't pushing for this technology to evolve, but their customers were rather badgering them to change by watching videos over reading text! Today's video is a mainstay of marketing across industries and channels, so we're really excited about our opportunity with you because humans tend to flock towards that which we're drawn to time and time again like moths to light!
We hope you enjoyed our online Marketing myths blog. We wanted to offer some quick actionable tips and tactics to help you get started making your own video marketing campaigns today! If you have any other questions or concerns about video marketing please contact HoboCult, the Best Video Marketing Agency in Delhi.