These PPC Marketing Trends Will Help You Succeed in 2022
If you are a business owner, you certainly would have dreamt of ranking on the top results of search engines. This dream can be fulfilled with SEO, but that takes a lot of time. If you want quick results, you certainly must invest some part of your revenue in PPC Marketing. PPC is the key to delivering quick results and showing your brand on top results of search engines. PPC is one of the highest ROI providers when it comes to digital marketing strategies.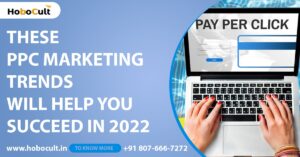 To improve your results, you must be aware of the trends and improvements. To help you with that, HoboCult, the Best Digital Marketing Agency in Delhi, is here to tell you about PPC trends that will help you succeed in 2022:
Artificial Intelligence:
With passing time, AI is getting better and better. It is taking significant spaces in every major industry in the world. Digital marketing is no exception. As AI is evolving, it is playing a significant role in becoming a helping hand in PPC campaigns. AI helps in analyzing the performance of your ad and works on optimizing low-result keywords. AI of 2022 will offer far more help to businesses when it comes to PPC. If you want to have a successful PPC campaign, AI is a must-follow trend.
Automated PPC:
Automation in global industries is growing rapidly, and it is here to help to advertise. Automation is not just a wise decision in 2022 but also a necessary one. If you try to ignore automation, you will lag in every campaign. Your competitors will not think twice before using automation to help them fetch more clients or customers. Automation in 2022's PPC will help in ad testing, data diagnostics, and CTA analysis.
Content-based on the audience:
PPC can indeed help you land your brand in top results of search engines but customers do not click unless the content is relevant to them. In 2022, if you do not provide client-focused content, you will never get enough clicks. Customers are becoming smart and most of them know about paid campaigns but they only click the ads which can convey the solution in fewer words. You must readdress your approach to PPC campaigns in 2022 due to this behavioral change.
PPC affiliate marketing:
Since the start of PPC and its diverse campaigns, PPC affiliate marketing has faced several hardships. Indeed, it is not the most reliable way to do PPC but it has its advantage. PPC affiliate works on less popular advertising platforms and helps you get a new audience. It can help you increase your revenue decently.
Software as a Service:
This type of PPC campaign is targeted to achieve subscription-based leads. It has taken the pressure off the businesses while getting above average leads for the business. Softwares are evolving rapidly and getting it as a subscription feels great. SAAS marketing has changed the game in digital marketing and will continue to do so in 2022 as well.
The PPC industry is ever-changing, and it is crucial to stay on top of the latest trends to ensure your business is successful. With all of these trends in mind, you may be wondering where your PPC needs to be in 2022. Our agency can help you get to where you need to be! If you're looking to get started with the Best Digital Marketing Agency in Delhi, all you need to do is contact us today, and we'll begin a free consultation.