Make your Business Ready with these 2022 E-Commerce Trends
Shopping is one of the essential things which we do for survival. It wouldn't be wrong to say that shopping is equivalent to breathing. Without it, you won't live happily and comfortably. From needles, groceries to electronic items, everything needs to be shopped. There are tons of shopping stores in every village and town to make sure the demands of residents are met. And when they are not E-commerce comes into play.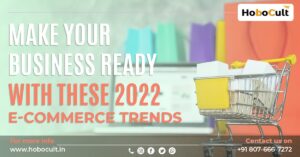 E-commerce is a thriving industry, and everyone wants to stay ahead of the game. With the right strategies and insights, it's possible to stay ahead of the curve and achieve success in the e-commerce business. E-commerce delivers a product that is not accessible or available in one's town or village. Since the last few years, e-commerce has grown exponentially. HoboCult, the best e-commerce management agency in Delhi, has sorted some of the 2022 E-commerce Trends for you:
More retailers will go towards DTC:
DTC is direct to consumers. There are hundreds of businesses that are online and sell DTC. They make huge profits by doing that, and this has made many offline retailers jealous. In 2022, more retailers will move towards DTC and establish their own e-commerce options. People who are loyal to that retailer can get their product or services far away from the store.
The brand will increase its e-commerce categories:
In the past few years, many businesses have gained huge profits from e-commerce. With this profit, they have plenty to research the market and add to their product range. 2022 will see many such trends. Brands will increase their e-commerce categories and target a larger audience. But, they must be careful about the quality and durability of the new products they add to their categories.
Returns will produce more competition:
When we purchase a product online, there are heavy chances that the product might be damaged or not like the images. In such cases, the return policies of brands help a lot. According to surveys in many countries, consumers like to buy from those brands which facilitate seamless and free returns. Apart from returns, a refund is another major factor that will become a competition enhancer. Seamless refund also attracts many consumers and it will continue to do so in 2022.
The world of e-commerce is changing and with that change, there are new trends that business owners need to start thinking about. As the business climate changes, it is important that your business adapts to new trends, new technology, and new ideas. While it can be difficult to keep up with everything, there are some trends that are worth keeping an eye on. We hope that you have found this blog post helpful and that you are able to see where your business needs to adapt in the future. If you have any questions, feel free to contact HoboCult, the Best E-commerce Management Agency in Delhi.