Be Future-Ready with these Video Marketing Trends for 2022
2021 is almost over. Within 3 days, 2022 will take its place and with the oncoming of the new year, every industry will strive hard to do better next year. Ever since the pandemic began, there have been noticeable changes in every corner of the world. Not just the environment, but industries and people have also shown significant changes in the last 2 years. One among such industries is the Video Marketing industry too. There have been video marketing trends in 2021 and there will be more in 2022.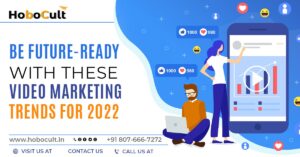 To keep you updated and make sure you never lag behind, HoboCult, the Best Video Marketing Agency in Delhi, is here to tell you the top video marketing trends for 2022:
Make your videos sequential:
Almost every business has its online presence and one of those present is YouTube. But, YouTube is unpredictable. Its algorithms and how it promotes videos changes from time to time. One thing which HoboCult has noticed in the last 2 years is that sequential videos do better when compared to other video segments. Sequential videos mean a video that has a clear beginning, middle, and end. Just like a movie, which has a beginning, interval, and end. You should try to make your videos sequential and make sure they have all these three things.
Incorporate user-generated videos:
TikTok and other platforms which showcase small-length videos are generally run-on users generated videos. People make those videos on the run and upload them to showcase to the world: "look, what I made!". It is not possible for every brand to trend a challenge and gather and combine hundreds of videos. But there are some user-generated videos like testimonials that can be uploaded by the business of any industry. Do give them a try and boost your video marketing strategy.
TikTok Style Video:
When we say TikTok style video, we are not saying to make your videos vertically with lots of effects. All we say is that you must make your videos fun, energetic and fast. This way, it will be more fun for the viewers to watch. Additionally, the viewers won't have to force their attention to view your videos as their attention span is decreasing every year.
Don't give up on longer videos:
It is an established belief now that shorter videos are trending and making it to the top. However, longer videos are not outdated yet. There are many brands and influencers which upload longer videos but they take care of the storyline. If the storyline is catchy, attractive, and engaging, there are high chances that your video will make it to the top. Longer videos can contribute better to your engagement time and SEO.
Personal videos are on the rise:
In a pandemic, people have been isolated. This isolation has made people forget the personal touch people provide. To cope with such a phenomenon, people are attracted to personal videos like interviews, zoom videos, and online pranks. With these videos, people have made them to trending lists.
Video is quickly becoming a marketing essential and the future of video marketing is going to be even more exciting. Video Marketing is an effective way to engage customers and convert them into leads, so it's a smart strategy for businesses to use. In fact, you're already behind if you aren't already using video. Video is the most preferred type of content on social media, and it's a powerful way to build trust, authority, and credibility. We hope you enjoyed our blog about video marketing trends for 2022. If you're interested in video marketing and want to get professional help on the same, feel free to contact HoboCult, the Best Video Marketing Agency in Delhi.