Get Ready For 2022 With These Local SEO Updates
2022 is just days ahead and we haven't even coped with covid yet. But, covid is not everything now, is it? As we all head back to our offices and resume our daily routine life, we must be prepared for the future. As important are the mask and social distancing, the same importance is of following the trends and getting future-ready. Local SEO Marketing has changed a lot in the past decade and more in the pandemic time.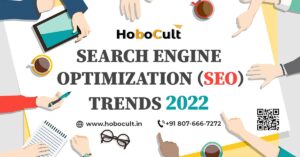 Since 2019, there has been a behavioral change in the general public. There has been a rise in online shopping, online searches, and a decrease in the average attention span. So, this change has kept digital marketers on their toes. Hobocult, the Best Digital Marketing Agency in Delhi, has sought to help everyone with local SEO updates for 2022:
Google Business Profile:
It is no doubt that Google is the best search engine in the world. Most of the public uses it for their everyday searches and queries. Many searches of the general public revolved around businesses and online shopping in past years. This gave an edge to those businesses who already had their Google Business Profile. The pandemic has made many offline businesses adapt to online ways. Most of those businesses have moved towards Google Business Profile in 2021 and this trend will increase in 2022 too.
Local News Delivered Quickly:
When a pandemic hit and people were forced to be inside their homes, worldly affairs didn't mean as much as local affairs did. How many people are affected in my area, where to get vaccinated, new covid rules around me were some of the searches. This made Google adapt to the changing scenario and they started giving out local news more frequently. It made it easier for people to find and catch up on their local scenarios via Google News.
Bing Launched Updates Too:
Bing is one of the most out-of-the-box search engines. It gives unique and different results from other search engines like Google or Yahoo. In the time of the pandemic, it launched some of the new updates to make the user experience comfortable. Bing's updates included expandable carousels, infographics like results, intuitive highlights, and integrated visual search. Bing started to deliver visually rich SERP for local queries. This move by Bing has made it more attractive not just for users but also for businesses.
Local Ecommerce Boosted:
When it comes to people living inside their homes, the demand rises in the local stores. To meet the demand, local stores were always putting things in stock and benefitting from it. Search phrases with in-stock increased more than 700% in the pandemic time. This trend made the local e-commerce boost during the times when they needed it the most. If you also own a local store and are listed on Google Business Profile, it will be highly beneficial if you keep the product list updated on your profile.
Not only were these trends valid for 2021, but they will play a significant role in 2022 as well. Keeping up with these trends and making your business adapt to them is a sure way to win the 2022 marketing game. If you are too busy running your business and want professionals to back your marketing game, you must contact HoboCult, the Best Digital Marketing Agency in Delhi.