Must Know Digital Marketing Trends To Get Ready For 2022
Digital marketing has evolved rapidly in recent years. From the time when it was still new to modern-day digital marketing where you can find hundreds of Digital Marketing Trends, each day. It has been a period of constant changes. However, there have been some digital marketing trends that have stayed for good and are going to continue.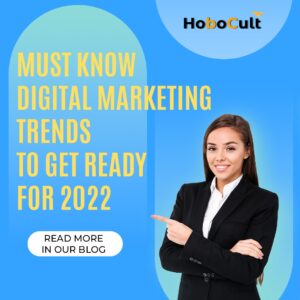 In this blog, we will look at some of them and get you ready for 2022. Hobocult, the best Digital Marketing Agency in Delhi, is here to make us aware of those trends:
AI Increases Productivity:
We all know the power of AI and how it has benefitted several sectors like healthcare and retail. Now, AI is also being used in digital marketing by many brands. There are a lot of things for which you can get help with AI. It can automate tasks like reporting website traffic, recommending keywords for organic search, and much more. 2022 will see a rise in AI combined with digital marketing.
Helpbots:
You can not be present 24 hours to help your consumers with their queries or complaints. To make consumer service easy for you, chatbots and voice assistant plays a big part. You can set up a chatbot on your business site and upload FAQs along with answers to it. You can also take it further by opting for a premium chatbot that helps your consumers with detailed answers according to their purchase or query.
Mobile First:
If your website isn't mobile-friendly, then you are going to lose a lot of revenue. Most people shop from their mobile and it is their smartphone that is close to them all day long. So, it becomes highly beneficial to opt for mobile-first marketing strategies. You must design your website or app that can be accessed easily on mobile devices.
Be Multidirectional:
The modern world is not for those who will go unidirectional when it comes to digital marketing. The present world demands that your brand is on all types of platforms delivering various content. You can not just stick with blogs and cold calling. These days videos and audio are trending and making businesses ace their industry and competition. So, make sure you also publish videos, podcasts, and images along with written content like blogs.
Digital Marketing Trends are constantly changing, and it can be difficult to keep up. That's why Hobocult, the Best Digital Marketing Agency, is here to help! They took the time to research the must-know digital marketing trends for the year 2022. We are excited to share these trends with you, so you can be prepared for the future. If you want professional help and extraordinary results with your digital marketing, then you must contact Hobocult.