7 Best Types Of Digital Marketing & Which One To Opt
Digital marketing is a broad word used for the usage of digital techs with the motive of reaching a valuable audience and make them loyal customers. It's not just one technique but a collection of various services, products, and business branding strategies centered around the internet for the accomplishment of objectives. Digital Marketing is said to be more target-oriented, measurable, and cherry on-the-top – interactive. There are several types of Digital marketing but in this post, Hobocult, the best digital marketing agency in Delhi, will cover the top 7 types and you can choose the best one for your brand without thinking too much about them.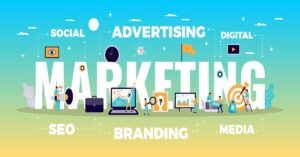 PPC or Pay Per Click Advertising
In this type of marketing technique, you have to pay for certain keywords or keywords for the advertisement of your brand. There are a few important points you should keep in mind while advertising:
Bid Amount

Quality of Advert

Formats

Expected Click-Through Rates
 Your ad will also be accompanied by extensions. The purposes of these extensions are to take specific actions. To simplify, if your ad has a call extension, customers can click on that button and call your brand. The best platform for PPC is Google. Google is the biggest search engine in the world and with PPC, you can harness its power to brighten up your brand.
 To sum up PPC, it's a paid version for your chance to rank on top of Google search for certain keywords you choose to target.
SMM or Social Media Marketing
It's one of the youngest techniques in the digital marketing genre and it has flourished enormously in the last few years. With the help of social media marketing, brands can easily market themselves in a very powerful and modern manner. You can also optimize the image of your brand, product, or individual through SMM. This type of marketing revolves around various social media platforms like Facebook, Instagram, Linked In, YouTube, Snapchat, Pinterest, etc. The best example of SMM is Redbill. Their social media pages are filled with interesting ads, sports, and adventure videos.
 To sum up SMM, it's a marketing technique revolving around various social media platforms to widen the reach of business and also ensuring better branding and recognition.
Email Marketing
The longest existing marketing type is email marketing and it's still really prevalent. Brands who use the popularity of email to be connected with their customers know how this can easily affect their revenues.
 The best daily life example is Amazon and Myntra. We all have saved something or the other in the cart but we often don't purchase it. Amazon and Myntra found the best way to deal with it. They send us reminder emails with headlines such as 'your cart misses you'. This has a hammering effect on the customer's mind and most of them purchase what they have left behind in their carts.
 Some steps to keep in mind while using email marketing are:
Know the components of email campaigns

Know ways to get permission for email signups

Use effective email marketing content and landing pages
 To sum up email marketing, it's a way to get your audience's valuable attention towards you. You can enjoy up to 6 times the click-through rate than tweets via email marketing.
Influencer Marketing
This one is currently in trend because of the rise of numerous influencers across several platforms. Commonly, influencers are those with a good number of following. One of the few examples of this type of digital marketing is brands sponsoring stars. If you can get a famous personality to endorse your brand online, the percentage of increasing your audience increases significantly. For example, Michelob UltMichelob Ultra collaborated with Chris Pratt to promote its brand in Superbowl ads.  To sum up, influencer marketing is a way to increase your reach and target many eyes. It can be even used by small businesses.
Content Marketing
This type of digital marketing has its center around the management and execution of various written, engaging, downloadable, and visual digital media content. It focuses on attracting and converting the targeted audience into customers by designing, publishing, and distributing valuable and relevant free content on digital marketing channels. Things to keep in mind while doing content marketing are:
Target Audience

The problem your content going to solve

Content marketing formats

Possible channels to use
 To sum up content marketing, it's making content that goes viral and attracts a lot many eyes.
SEO or Search Engine

Optimization
This marketing technique is used to enhance the ranking of a brand's website in the unpaid organic search list. With SEO, businesses can make their site rank higher in a search engine by increasing visibility, reach, authority, and Alexa scores.
 To sum up, SEO is one of the most evergreen types of digital marketing with which businesses can gain recognition and needed authority.
Video Marketing
Videos have been seen as an emerging form of content audiences are loving everywhere around the globe. By combining words and imagery, you can market your brand in this digital age. These videos can be posted on your website, social media platforms, etc. According to a kunocreative.com survey, almost 92% of people share the video they find relatable. This percentage and trend provide you with an opportunity to market your brand from a new perspective. The only thing to remember is to stick to your niche while making videos and captioning them in such a way that the audience loves to watch and share them.
To sum up video marketing, it's the latest and most loved trend in 2019 and it will continue to be so for at least 1-2 years from now.
 If you have any queries regarding all the above Digital Marketing Techniques, or you want to know what will be best for your brand, feel free to contact us and we will sort all your confusion out.