Top 5 Google Algorithm Updates To get you Started in 2022
Are you across all of Google's Algorithm Updates and their potential impact on your SEO? Google is constantly updating its system to provide a better user experience. With many updates every year, that just keep arising, it can be difficult to keep track of them. There are many updates that will not substantially affect your SEO strategy, but others may trigger big changes to your performance. If you want to maximize your search traffic, you need to know about the bigger ones, lest you continue along blindly in an unsustainable position.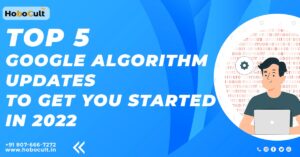 HoboCult, the Best Digital Marketing Agency in Delhi, is here to update you about the significant algorithm changes that can impact your SEO strategy. Adjust your strategy according to these Google Algorithm Updates:
Passage Ranking Updates:
The main aim of this update is to make sure Google understands the content and makes it easier to rank. It will make page ranking easier. Another purpose of this update is to improve the way content is indexed. The objective is to make it easier for searchers, information seekers, customers, and Google itself to find exactly what they are looking for fast, efficiently, and effectively.
Mobile version ranked above:
Google has taken another step considering the recent pandemic in mind. With the increased usage of mobile phones by users, Google has made sure to rank the mobile-friendly version of the website on top. Responsive and mobile-friendly websites are likely to be ranked on top, so it become extremely important for businesses to adapt to this algorithm. If you have a website that is outdated and slow, it is the right time to make the necessary changes.
Link spam clearing:
With this update, Google cracked down on various site owners who use bad tactics. This update targeted web results and image results to check security issues and clean up spam. With this update, Google results are more fair and clean as compared to before.
Page experience update:
New measures have been put in place to understand how a page contributed to the overall experience of the user. To quantify a person's experience, factors such as Largest Contentful Paint, First Input Delay have been applied. With it, Google will improve core web vitals.
Local search update:
Google is working on local SEO updates too so that users can get better results within their reach. Google is rebalancing various factors like proximity of searchers to business, and discounting the value of keywords in company time.
Last year, Google made numerous important core algorithm updates. It is impossible for any webmaster to follow every single one of them and keep up with the changes. The best way to get the best results on Google is to focus on quality over quantity. There is no easy way to rank #1 on Google, you have to do the work. HoboCult, the Best Digital Marketing Agency in Delhi, has put in front of you the 5 most important updates to help you in SEO strategy. Contact us to know more on how your business can boost with help of SEO.