How To Grow Your Business With The Power Of Social Media Marketing
With 3.397 billion active social media users at an average viewing rate of 116 minutes per day, social media has become the next global village. This global village has much more to give than just memes, funny content, etc. All it takes is a passion-driven person to harness the power of social media and market their business with its power. Social Media Marketing has been lately much popularized seeing the results businesses are getting with it. Therefore, it becomes important to know how to grow your business with the power of social media marketing. The sales have gone up, consumers have access to almost all products at their fingertips and clear conversations between business and consumers have led social media marketing to take its place in today's global village.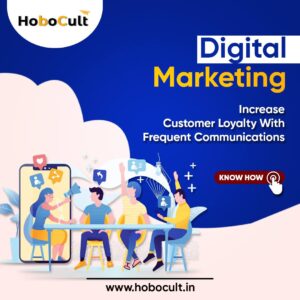 What is social media marketing?
Social media marketing is a term generally referred to as marketing your business with various social media platforms like LinkedIn, Pinterest, Twitter, Instagram, Facebook, etc. Whatsapp also released its business platform in the past months. Airlines, multiplexes are using the WhatsApp business to convey important messages right at consumer cells. Hobocult, the best social media marketing agency in Delhi, believes that social media marketing has become a powerful tool for business to reach their desired goals and even revenues. Sadly, almost 50% of small businesses are not harnessing the power of social media marketing and nearly half of them have no plans of using it in the future. It doesn't matter if you run a small-scale business or big airline with jets flying all around the world, but in today's global digital village, social media presence has become necessary. What's more necessary to have a good social media marketing strategy.
How to use social media marketing to skyrocket your business progress?
Leads Improvement
Improvement of leads is the striving force of small businesses because once they can get quality and loyal leads, it doesn't take much for words to spread about your business and services. To improve the quality as well as quantity of leads, you need to focus on putting up relevant content according to your niche as well as your consumer's interests. The content must be easily readable and readily understandable. If possible, add a call to or action that creates a sense of connectivity.
Be Consistent
Rome wasn't built in a day. Your social presence needs to be updated consistently to get to the top and be the number 1 name in your niche. For this to happen, you need to be consistent with uploads. Also, do not just lean on 1 social media platform and wait for the magic to happen. Create your presence on all suitable social media platforms to gain more eyes and be in the spectrum of the audience's prism.
Improve Search Engine Ranking
The more people visit your social media profile, the more traffic it will generate on your website and your ranking. People visit social media profiles of businesses and brands before going on to their websites to get a more sophisticated look at all products and other details. Having traffic funneled through social media platforms is a sure way to improve search engine ranking and stand tall against competition.
Understand All Platforms
Having multiple accounts for your business on various social media platforms and posting the same content everywhere will not help you in social media marketing. Every platform has its standard of uploads and how they are organized. For example, square photos with clear content are appreciated by Instagram while LinkedIn appreciates long posts. A little modification in uploads will get you a long way in the successful journey of social media marketing. Post customized content on each of your social media platforms.
Keep Eye On Competitors
It is advisable you put a keen eye on your competitor's social media when you are new on the same platform. The way they are putting information, the way they are handling their consumers and critics is a must-watch thing for you. Don't just copy and paste what you see on their handles, get inspired from them until your content looks far better than them and you have more traffic.
Publish All Sort Of Content
Contents like testimonials, charity posts, and blog posts might not get as much engagement as other pieces of content, but they are also important in showcasing transparency of your brand in the eyes of consumers. This type of content establishes your validity and helps you in strengthening your image.
Use Social Media Wisely
Every marketing plan must be solid. As a business, you must have plans both offline and online. A strong social media marketing plan will help you ease up in ground-level marketing and will also boost sales. Social media is affordable but still, people don't use it in the proper sense. Putting sensible and eye-catching content, showcasing your brand's viability and reliability in front of consumers is the only way to win in this game.
With those points in mind, every brand can harness the power of social media marketing and skyrocket their progress. If you are still confused about what to do and how to do it, let professionals at HoboCult provide you the Best Social Media Marketing Services. This will not just ease up one area of responsibility from your head but will also help you grow an impeccable social media presence because our professionals work with integrity and constant learning of the market to provide out-of-the-box solutions for all your needs.